ScaleBuster's Water Conditioner Technology
The operation of the patented ION ScaleBuster requires a moving stream of water to enable the hydrodynamic process to work.
As water flows through, cavitation within the ION ScaleBuster chamber unit produces violent pressure changes that break up bicarbonate molecules and the dielectric materials produce static effects.
The electro-static galvanizing action of the ION ScaleBuster causes the breakdown of calcium and magnesium bicarbonates in the solution, (hardness in the water) which precipitate less soluble carbonates.
As a result, the treated water becomes less saturated and is able to dissolve existing deposits over time.
The combination of these effects is repeated many times. Once the salts are precipitated or removed, this action improves the flow and overall efficacy and efficiency of the piping system.
The High Cost of Corrosion & Scale Fouling
Equipment Damage, Energy Loss, & Increased Maintenance
Energy Savings
Because the ION ScaleBuster removes existing scale buildup on pipework, valves, heating elements including hot water heaters, electrical heating elements, industrial heat exchangers, hot water pipes and tanks, less energy is required to heat the water.
Clears Existing Scale Deposits
The galvanic effect of the ION ScaleBuster provides a reducing effect on corrosion sites. By precipitating hardness, the treated water becomes less saturated and, therefore, is able to dissolve old deposits over a period of time.
The time taken will depend on several factors—the thickness of scale deposits and the distance of effected area from the installed ION ScaleBuster. The volume of water passing through ION ScaleBuster will determine the length of time taken to clean scale and corrosion deposits from the system. However, once installed, a ScaleBuster unit will commence its job immediately provided that a water flow is still possible.
A Better Solution to Scale & Corrosion
Based on the unique advantages our innovative technology, ION ScaleBuster has become the choice of major firms and municipalities around the world for corrosion and scale removal in pipeworks and equipment.
Proven worldwide for over 30 years
Significant installed base of 300,000+ units
Zero operating costs – requires no chemicals, magnets or electricity
Decreases resistance in piping – reducing energy required for pumping
Coagulates suspended particles in water to enhance filtration efficiency
Maximizes the efficiency of heating elements
Minimizes downtime and maintenance
Extends operational life of metal piping and equipment
Safe, chemical-free operation—no special handling or storage requirements
Long-acting treatment
Low internal flow resistance
Less dependent on flow conditions than magnetic-based systems
Certified for potable water by WRAS UK, ACS France, TÜV Germany/Europe, IAPMO R&T USA
Installation flexibility – compact design simplifies retrofits
Minimal maintenance – no mechanical moving parts to be replaced
Lead Free (NSF/ANSI 372)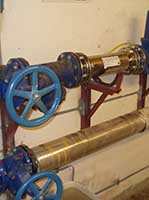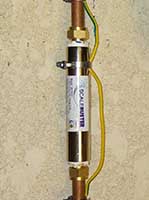 Safe, Chemical-Free Operation
A Safe, Environmentally-Friendly Process
Unlike systems that use harsh chemicals to dissolve scale and corrosion and contribute toxic pollutants to groundwater, the ION ScaleBuster works without chemicals. Instead, it employs an electrostatic process that is planet-friendly. This reduces energy and water consumption, while reducing or, in certain cases, eliminating toxic water discharge.
Chemical-Free Flocculant
The patented construction of its PTFE (Teflon®) turbulence chambers alters the static balance within the unit. This neutralizes charged particles, causing them to flocculate, or form large clump particles that are slower to re-dissolve in the water. In normal "straight flow" systems, the flocculate particles of scale remain harmlessly in the flow of the water and are unable to adhere to the pipe surfaces. In re-circulating systems – or those that contain settlement areas – filtration or flushing is commonly used to remove these treatment by-products. Corrosion is now under control and further damage to the system and associated equipment is prevented.
Laser Particle Analysis
Sophisticated laser particle analysis was used in the development of the ION ScaleBuster to determine the optimal precipitate size. The large particles produced are much slower to re-dissolve in the water, extending its beneficial treatment effects.
Trusted by Some of the Most Respected Companies in the World
ION ScaleBuster technology is used around the world by major companies and institutions for its proven ability to inhibit scale and corrosion. In the process, they are saving energy and water, and minimizing the use chemicals in their cooling and production systems.
Here are just a few of the firms putting ScaleBuster to use in their operations:
ABB
Alstom GmbH
Alba Infraserve GmbH
Atmos Medizintechnik GmbH
Bast Bau GmbH
Bayer AG
Bayer Oil GmbH
Bosch Electronik GmbH
Commerzbank AG
Continental Teves
Danfoss GmbH
Daewoo Korea
FS Karton GmbH
Gala GmbH
Hyundai Korea
Japan Tobacco Ind
Knipex
Thyssen Krupp Nirosta AG
Life Technologies (multiple locations, USA)
MAN Roland AG
Messe Düsseldorf GmbH
Muhr & Söhne GmbH
Municipal Buildings (AZ, CA, TX, ON)
Hotel Adlon Berlin
Savoy Hotel London
Cumberland Hotel London
The Ontario Green Schools (Canada)
University of Calgary
Northern Alberta Institute of Technology
UC Davis
University College London
University of London
Kings College London
Middlesex University
Nottingham University
The University of Kent
Santa Rosa College
Fresno Pacific College
NIH National Institute of Health Maryland
Naval Medical Facilities USA
VA Hospitals across USA
Valley Medical Center (CA USA)
Peter Lougheed Center Hospital (AB)
MVA, Bonn
North Star Foods (MN USA)
Philips Semiconductors
Pepsi Cola (multiple Plants Worldwide)
Peguform GmbH
Posco, Korea
Rhienbraun AG
YMCA
Winsport Calgary AB
Community Recreation Centers
Dublin Ice Rinks
Republic National Bank of New York
Oxford Magnet (UK)
The Baltic Exchange (UK)
Calgary Stock Exchange (AB Canada)
99 Bishopgate (UK)
Canary Wharf London (UK)
Canada Square London (UK)
PG&E (multiple facilities USA)
Spirit Aerosystems – Nacelle (KS USA)
Sheraton
Doubletree
King's Daughters' Hospital (IN USA)
Abbott Labs (CA USA)
CV Therapeutics (CA USA)
Kaiser Foundation Hospital (CA USA)
Sudbury Regional Hospital (ON Canada)
Lakeridge Health Center (ON Canada)
Books Etc (UK)
Gap Stores
Marks & Spencer
Bordes
St. Lawrence Market Toronto
Ontario Ministry of the Environment Toronto
Ministry of Defense of the UK (H.M.S.)
The Cabinet Office of the British Government (UK)
Borough of Kensington & Chelsea (UK)
Essex County Council (UK)
Court Houses (USA)
US Federal Correction Facilities (prisons)
Police Departments (USA, UK)
Police Training Facilities (USA, UK)
CFIA (Canadian Food Inspection Agency)
CSA (Canadian Space Agency)
NASA (several facilities USA)