OVERVIEW
There are three main challenges for treating cooling water: Scale, Corrosion and BioGrowth.
WATER SYSTEM CHALLENGES
The traditional chemical treatment calls for chemicals to deal with these challengers. When scale is present, the condenser's ability to transfer heat is reduced, causing higher pressure and higher temperatures hence more energy. Micobial growth induced corrosion which weakens components, reduces heat transfer efficiency and causes leakes, as well as reduces life expectancy of the equipment. There is another aspect of course, which is the hazards associated with the chemicals stored in the building.
The ScaleBuster technology enables the operator ro reduce chemicals while maintaining the system free of scale buildup, corrosion as well as Biological growth for maximum efficency while saving energy and reducing downtime.
SCALE FREE CHILLER AFTER 2 TEXAS SUMMERS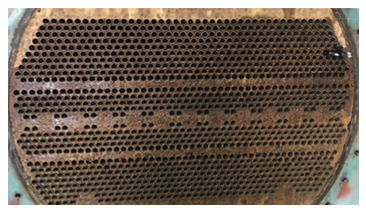 SOULITION
In 2006, An EnviroTower system based on ScaleBuster® conditioning technology has been installed to treat the cooling system's water.
RESULTS
In a short few months it was clear that the cooling system is in a better condition than before, most scale formation on the condenser (and other parts of the cooling system) were dissolved. The system had been scale-free since then! Operation costs (mainly energy, but also water, maintenance and of course chemicals) were cut drastically. System's performance parameters were at their highest ever.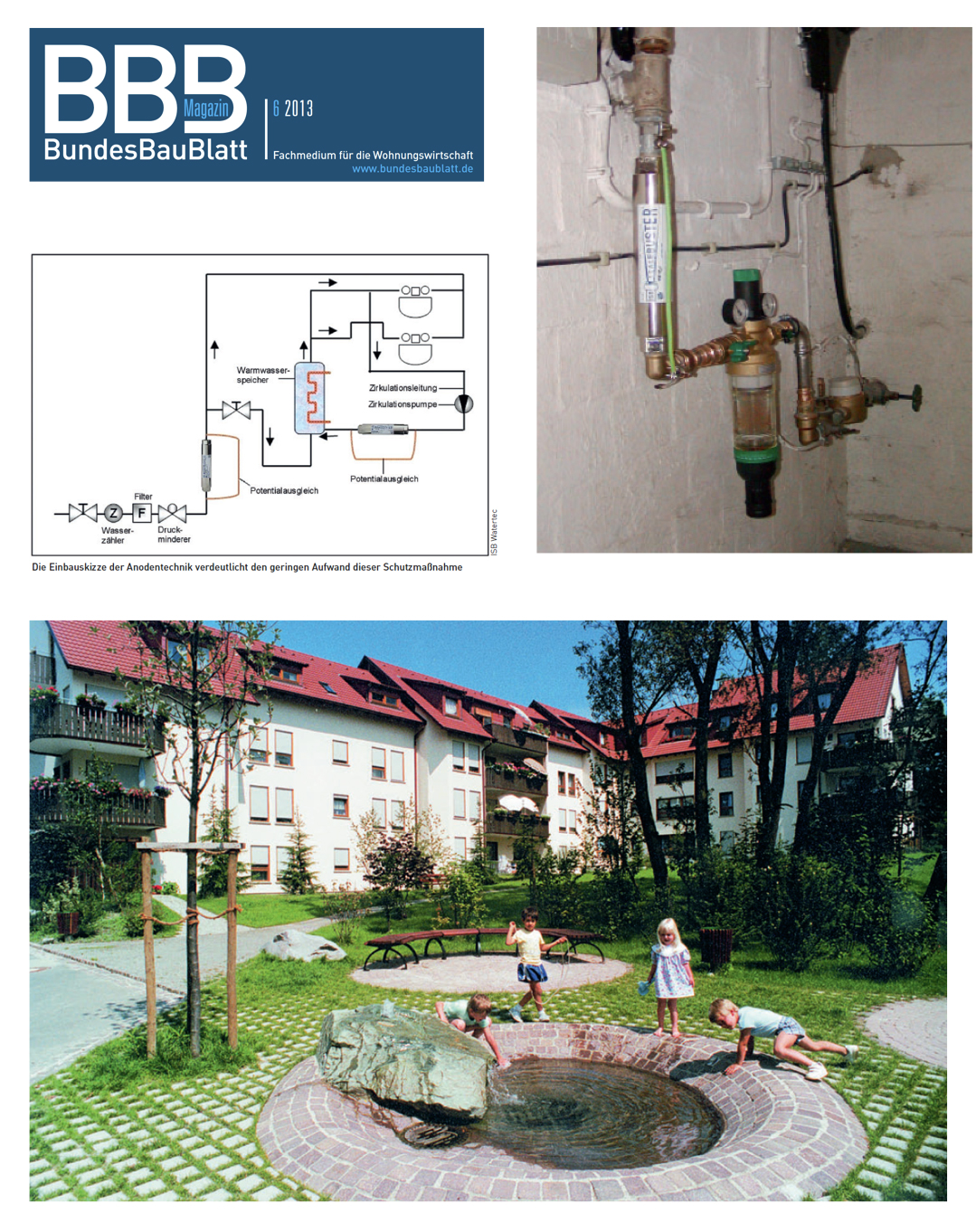 OVERVIEW
For Many Years, since the end of the 1980's, tenants have complained about "Red Water" which is a sign of corrosion in the drinking water system of the WOBAK complex of 3,700 apartments in Konstanz Germany.
WATER SYSTEM CHALLENGES
Since the 1990's, WOBAK engineers have tested many technologies to eliminate corrosion in the water system; among them pumping water from over 40m depth in the local lake (to minimize oxygen levels), implementing sand filtration as well as micro-filtration, and various other techniques including electronic and magnetic conditioning.

SOLUTION
In 2000, WOBAK cooperated with ScaleBuster® distributors in Germany, for an installation of ScaleBuster conditioners in 70 apartments for a long-term pilot. The ScaleBuster conditioners were installed in main water inlet pipes (after a filter) and before water heaters. The "red water" phenomenon had vanished in a few days!
RESULTS
Following the success of the limited pilot, more ScaleBuster® water conditioners were installed across the housing complex. "Compared with all other options we have considered – this was the best, installation is quick and simple, Capital Expenditure is lower, there are no operation and maintenance costs, the Zinc anode is warranted for over 5 years – no other manufacturer stands for so many years behind their technology!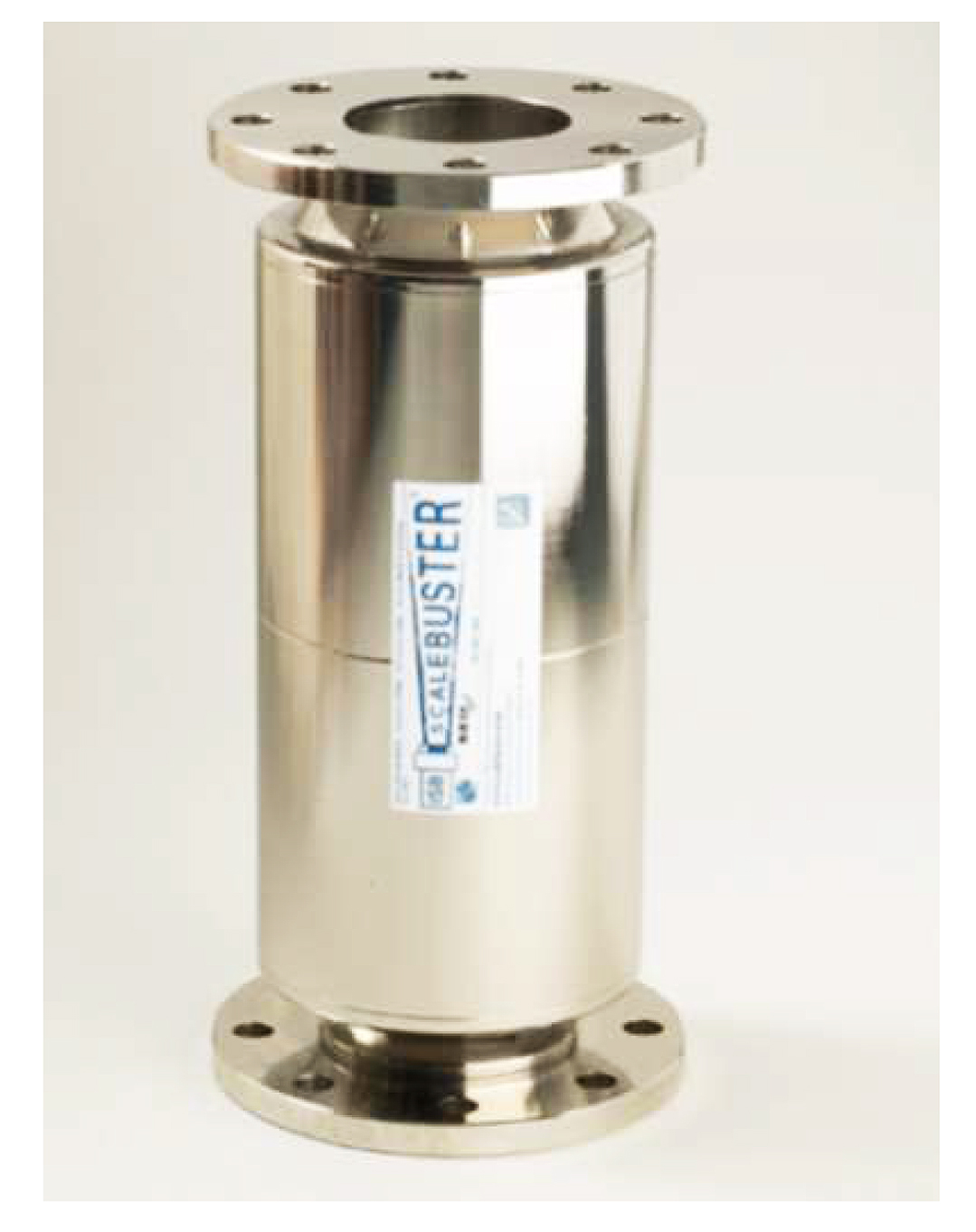 OVERVIEW
In July 1996, a 4" ION ScaleBuster® SB100 was installed at the student residence to protect the cold water taps, WCs and unvented hot water cylinders.
WATER SYSTEM CHALLENGES
Annual water consumption of the building (which went through the ION ScaleBuster®) was 11,587 cubic meters. In Brighton (the southern England coast region) the water is hard to very hard – above 200mg/l as Calcium Carbonate equivalent.

SOLUTION
In 2011 the ION ScaleBuster® conditioner was replaced by a 2" ION ScaleBuster® SB50 when the University decided to decommission the cold water storage tank so the 4" boosted supply was replaced by a direct mains water feed with a consequential reduction in flow rate.
RESULTS
The 4" ION ScaleBuster® SB100 (serial No. xxx6792 model SB100 with PN10 flanges) was removed and returned to the manufacturer in order to carry out a detailed examination following over 15 years of continual service. The 4" ION ScaleBuster® SB100 was found to be in perfect order.

OVERVIEW
Saltillo (population 80,000) is the capital and largest city of the northeastern Mexican state of Coahuila. The city is located about 400 km (250 mi) south of the U.S. state of Texas, and 90 km (56 mi) west of Monterrey, Nuevo León, Mexico.
WATER SYSTEM CHALLENGES
City water has high hardness which coats the internal water system with scale, causing water flow restrictions, a lot of maintenance work as well as high volume of complaints to the municipality. Older sections of the piping network are heavily scaled up, new or replaced sections tend to scale up in a few short months after initial installation.

SOLUTION
In February 2015 a ScaleBuster® SB125-EF-16 water conditioner was installed in a strategic location in the water supply network, along with 2 test sections (old pipes and new sections) downstream from the conditioner. The test sections were monitored after 6, 8 and 11 months.
RESULTS
Following the installation of the ScaleBuster conditioner, Water Works personnel had monitored these test pipes for almost a year and in the end of the pilot period had concluded that the ScaleBuster had eliminated scale problem for new or newly-replaced pipe sections, and in the older parts of the system reduced the existing scale formation (some scale deposits were dissolved, some flaked off the old pipes and that was easily flushed out). Water Works personnel had said that not only that their maintenance cost had decreased, but also the customer complaints were incredible less in the pilot zone vs. other parts of the city and also vs. past periods.

ABOUT THE TECHNOLOGY
The patented ScaleBuster® technology completely replaces traditional chemical treatment; providing control of scale and corrosion in various water process systems to create an exceptionally clean system. This dramatically reduces energy and water consumption, while reducing or, in certain cases, eliminating toxic water discharge to the environment.